The knowledge.city Academy provides an integrated fine-tuned programmes on Knowledge Management Course to make you fit for the knowledge economy.
The KM Certification Course Programme is a flagship programme of the Academy and includes three trainings plus the development and presentation of a case study. These four modules qualify you for the Certified Knowledge Manager. The three core trainings KM Compact Kick-off, KM Essentials, and KM Advanced take place within one week, but each module can be booked separately and at different locations.
The next KM Certification Courses will take place online in spring 2021. Detailed information will be provided timely.
The programmes in Knowledge Management are provided in cooperation with the Knowledge Management Academy, a world-leading training institute in KM, established in 2001 in Vienna, Austria. 20 years of experience and a unique global faculty of KM Pioneers with Knowledge Managers from Hewlett Packard Enterprise, Siemens, Primetals, Horizont3000, UNDP, IAEA, make the KM Academy one of the most recognized training institutes in the world.
The Certification Programme of the KM Academy is unique in the world. It addresses the essential elements of KM in a comprehensive, yet compact way, and gives insights into the leading edge technologies in KM.
Open Trainings – Inhouse Trainings and Workshops
All core modules of the KM Academy are offered openly, see below. The courses, which are currently open for registration, can be found here.
Our Inhouse Courses and Workshops are tailored to the specific needs and context of our customers. You will find selected standard inhouse modules below, which can be adjusted and modified. This ranges from a strategy workshop to a full Inhouse Certification Programme, which builds the capacity to sustainably perform in Knowledge Management within your company.
Please don´t hesitate to contact the team of the Acamedy for any questions: academy@knowledge.city. We are happy to get connected with you.

Knowledge for Development Partnership
Knowledge.city is a driving force in the Knowledge for Development Partnership (K4DP), a global, nonprofit multi-stakeholder partnership linking knowledge management with the Sustainable Development Goals of the UN. Education and training are key elements in strengthening KM and knowledge.city aims at connecting learning with real practice and societal development.
Knowledge partnerships – understood as a multistakeholder commitment to jointly advancing knowledge in a thematic field or in a city/country as a whole to achieve sustainable development – are at the heart of knowledge.city. In all countries, where knowledge.city is represented, it actively connects the local KM community and facilitates K4DP-Meeting. 
Find out more about K4DP and become a member of the gobal Knowledge for Development Partnership.

KM Award
Every year since 2009, the international Knowledge Management Award is bestowed upon an international organization as well as an outstanding personality. A jury that is constituted under the auspice of the Association Knowledge Management Austria nominates the candidates. The prize is given in recognition of the winner's outstanding accomplishments in the research, implementation and innovation of successful management methods for knowledge politics and knowledge management. It is also meant to recognize the impact made on the development of a knowledge society in general and more specifically on knowledge creation, transformation, distribution and application.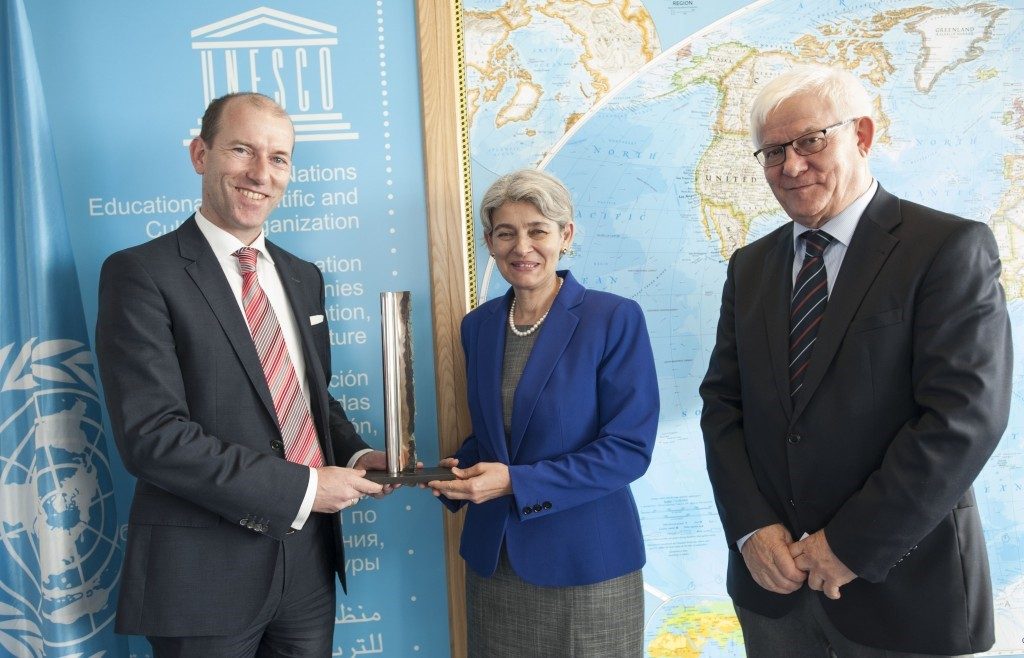 Presentation of the KM Award 2015 to the Director-General of UNESCO
From left to right: Dr. Andreas Brandner (KMA), Dr. Irina Bokova (UNESCO), Dr. Yanko Yanev (KMA)
Awardees
2009: Prof. Dr. Ursula Schneider-Hendrich
2010: Dr. Charles Savage; IAEA – International Atomic Energy Agency
2011: Prof. Dr. Stefan Güldenberg (siehe Bild oben); UNESCO – UN Education, Science and Culture Organization
2012: Prof. Dr. Nico Stehr and UNDP – United Nations Development Programme
2013: World Bank
2014: Prof. Klaus North
2015: DI Dr. Angelika Mittelmann; UNESCO – UN Education, Science and Culture Organization
2016: Dr. Ibrahim Seba Al Marri; KM4Dev Community
2017: Prof. Leif Edvinsson; Joint Inspection Unit of the United Nations System
2018: IFAD International Fund for Agricultural Development and Dr. Ali Asghar Pourmand
2019: Charles Dhewa and ILRI – International Lifestock Research Institute
KM4D Award
The KM4D Award is given as a Knowledge Tree – designed by the Austrian designers "Walking Chair", 2008.
There are three levels of Awards that can be achieved:
Golden KM4D Award: Given to those who combine excellence and innovation in KM in their industry at an international level.

Silver KM4D Award: Given to those who combine excellence and innovation in KM in their industry at a national level

Bronce KM4D Award: Given to those who have achieved a high-level in KM4D and present a credible roadmap toward the state-of –the-art.
The global winners will receive the Columns of Knowledge – designed by the Austrian artist Helmut Margreiter, 2008.

The Knowledge.Art.Space is art in itself. It facilitates the unique symbiosis with knowledge and art: inspiring design of Walking Chair and fascinating art work of well-known artists as e.g. Louise Deininger and Andreas Leikauf are combined with the innovative concept of knowledge space.
The Knowledge.Art.Space is presented at conferences and stimulates knowledge transfer in public space. As art collection it is based in the headquarter of knowledge.city in Vienna and reflects explicit and implicit ways of dealing with knowledge and knowledge identity. The Knowledge.Art.Space enables a new approach to comprehend knowledge.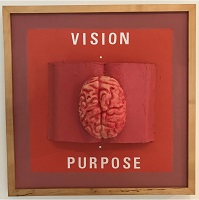 Louise Deininger, vision – purpose
Andreas Leikauf, Experts have done my thinking for me, 2005
Walking Chair, Knowledge Space