2020 - a special year for knowledge partnerships
Stay tuned for more information on events and developments in knowledge cities and regions!

Composed of three central pillars of international knowledge management a wide spectrum of KM expertice is presentet in (1) the KM Briefing, (2) the KM Essentials Training Course and (3) the KM Advanced Training Course. Each course is tailored to different needs and desires. The choice is yours!
All trainings are provided in every knowledge.city and presented by local experts in knowledge management. Please check available traingings here. If the training you are interested in is not scheduled, please contact Andreas Brandner (email) from the headquarter in Vienna or the local knowledge.city team.
Knowledge Management Briefing
What is Knowledge Management and how does it create value?
The half-day KM Briefing provides an overview of the concept and best practices in Knowledge Management. It gives an orientation and seeks to help the participants to position a KM Initiative in their organization.
During this half-day event, KM-pioneers give a management briefing on the KM concept, and a portfolio of critical issues from KM strategy development to knowledge networking with numerous best practices and case studies.
The half-day briefing concludes with a Q&A session allowing participants to raise their specific questions and KM-related challenges.
Knowledge Management Essentials Training Course
How can Knowledge Management be implemented internationally?
The KM Essentials Training Course provides the big picture of Knowledge Management in International Organizations and gives a solid introduction to the key concepts, practices and instruments. Participants are taught how to assess KM and how to develop it step-by-step. They will learn to position and establish KM in their organisation and to relate it to other management concepts. The upcoming requirements of the ISO-Standard 9001:2015 on Knowledge Management will be considered and recommendations on suitable implementation methods will be given. This course will discuss the process and success factors for implementing Knowledge Management and will offer insight into some successful KM Awareness campaigns.
We will present instruments to set up, plan, communicate and measure Knowledge Management, which are critical for its introduction and consolidation in the organisation.
Representatives from the KMA, Hewlett-Packard and the NGO HORIZONT3000 will present their experiences and discuss them with participants. Different KM training elements, exercises and discussions that aim to allow participants to co-create knowledge are key elements of this fundamental KM Training course.
Knowledge Management Advanced Training Course
Which knowledge strategies are simple yet effective? How can I establish a Knowledge Network that transcends departments and organisations? How do I secure knowledge and make it easily and reliably available to all company staff? How can global Knowledge Networks co-create the future?
This training session is dedicated to Knowledge Managers who already have a solid understanding of Knowledge Management or have gathered practical KM-experience in an International Organization or Corporation. Participants will learn how to meet the real challenges of KM in an international context, such as managing global knowledge networks, establishing and maintaining a knowledge-sharing culture and reducing the risk of knowledge loss. Key aspects of Knowledge Politics and the Knowledge Society will be presented and discussed.
You will learn how to establish knowledge services such as filtering and brokering of knowledge and increase the value of big data.
Presentations regarding the experiences of Siemens, UNDP, IAEA, Microsoft and other international companies and organisations will provide participants with references for comprehensive knowledge management programmes.
The Knowledge Management Certificate
As partner of knoweldge.city the KM Academy offers a specified knowledge management certificate. The faculty stands for a state-of-the-art and practice-oriented education in Knowledge Management. With the knowledge management certificate your position as an expert in knowledge management within your company and on the international markets. You demonstrate your innovative, strategic and transdisciplinary thinking, ability to apply KM concepts in a real context and to establish and lead a KM initiative!
Special topics and inhouse trainings
Based on the educational programme of partners like the KM Academy and more than 20 years of consulting experience, knowledge.city offers inhouse training, seminar and workshops tailored to the specific needs of your reagion or organisation. A mainly inhouse training experience is combined with a review of your KM practice and the (re)design of your KM Strategy. Some of the topics we include in the inhouse trainings / strategy workshops are:
Assessing the quality of your KM Practice with a KM Assessment
Defining policies and strategies in International KM
Connecting Knowledge Workers and improving Knowledge Transfer
Implementing methods and tools for International KM
Measuring the value and performance of Knowledge Management
Capturing critical Knowledge for sustainable performance
Transferring Knowledge of departing experts
Implementing KM Awareness Campaigns
Establishing Knowledge Partnerships on a transnational level
Empowering Communities of Practice through the use of social media
Making use of big data for your knowledge-driven services
Special topics
Experts leave – knowledge stays
Using Knowledge Management to facilitate staff transitions and to overcome demographic challenges.
Implementing KM with SharePoint
SharePoint and Microsoft Word Products offer an integrated solution to the challenge of developing knowledge throughout its digital life cycle. In particular SharePoint will be presented as a solution to Knowledge Management.
Knowledge Management in Projects
How can knowledge be specifically integrated into a project and how is knowledge interchangeable between multiple projects? How do organisations draw lessons from their projects?
Train the Experts
Knowledge Management for technical experts – how to structure Knowledge Work more creatively, understandably and effectively.
Knowledge Management in Public Administration
A modern and progressive administration that increasingly works on projects in cooperation with other organisations requires methods for the efficient and effective use of knowledge resources.
Manage and Command International Knowledge Networks
This seminar allows you to unlock and define your personal approach to Knowledge Networks. Case studies are referenced to provide insights and impetus for your own networking initiatives.
Unlocking Creative Potential
One of today's most crucial prerequisites for successful Knowledge Work is the ability to transform creative ideas into groundbreaking innovations. By harnessing the power of collective thinking, it is possible to break through the glass barrier and achieve unprecedented heights.
Learning from the Future and Knowledge-based Management
Acquire game-changing ideas and concepts for your own organisation in order to advance knowledge-based management and vision development.
Web 2.0 and Social Software
What can businesses gain from the 2.0 movement? How can social software be successfully implemented in organisations?
Knowledge Sharing with Large Group Methods
How can large group methods support the transfer of knowledge help in the creation of Knowledge Networks? This seminar will equip you with the basics and implementation tools of these methods.
Knowledge-based Innovation Governance
Strong innovative capacity is highly conducive to success in our modern economy. This seminar focuses on how to coordinate innovation processes with knowledge, project and risk management.
Taking Stock and Control of Knowledge Resources
This seminar teaches you how to apply stock-taking procedures as well as the corresponding creation methodology. You will also discuss the trends that define a company's valuation.
Knowledge Management in Mergers and Acquisitions
Consolidation and acquisition form large parts of the strategic measures needed to develop a business. The seminar tackles consolidation and acquisition from a KM point-of-view.
Establishing KM in Business Procedures
How is knowledge transported, utilised and processed in business procedures? How can KM be integrated in a successful and sustainable way?
Knowledge Cities and Knowledge Regions
This seminar presents strategies for regional and national KM as well as their corresponding implementation methods. A strategic and comprehensive approach for the development and promotion of knowledge in cities, regions and states forms the core focus of the seminar.
Please contact Andreas Brandner (global lead) or the local knowlege.city office.
General Conditions
Timing of events
The training courses generally take place from 9:00AM to 5:30PM. The KM Briefing takes place from 2:00PM to 5:30PM. Should a different schedule apply to an event, this will be announced separately in the relevant invitations.
Changes
Preparations for our events are made in advance, resulting in the occasional need to change dates, venues or guest speakers. We appreciate your understanding, and will inform you about any changes in a timely manner.
Attendance
In order to provide the best possible training, we will limit the number of participants in our training courses. Registrations are accepted in the order received. Cancellations in case of an insufficient number of participants will be communicated in a timely manner.
Cancellation policy
There is a cancellation fee of 70% of the attendance fee if a booking is cancelled. Cancellations within 3 days of the commencement of a training are billed at 100% of the attendance fee.
In case a trainer is unable to participate, we will do our best to find a solution through a shift in lectures or a replacement of the trainer. If this is not possible, the cancelled lectures will be given at another day during the course or otherwise within the following month. In any of these extraordinary circumstances the participants' costs (e.g. traveling expenses) will not be paid by knowledge.city.

Knowledge.city supports cities and regions to make their marks as specially designed locations for knowledge. Furthermore we help NPOs, public administration and businesses in overcoming strategic challenges by professionalising their knowledge management resources.
Our advantage lies in our understanding of the dynamic interplay between knowledge and action, which we achieve by:
Focus: KM is our core principle and our contribution to personal and organisational success
Overview: KM only works through the harmonisation of strategy, technology and human capital. Mastery of this dynamic reciprocity is a special strength of KMA
Combining practice, research, education and consultancy: Our management competency is theoretically grounded in a multiple use approach, conditioned by practical application and optimised through dialogue – both: local as well as international.
Our commitment to staying unique: The process of implementing KM is as individualised as the people and organisations it is directed towards. Tailor-made approaches are part and parcel of our one-of-a-kind service.
For more details please contact Andreas Brandner (global lead) or the local knowlege.city office.

Knowledge Partnership
Knowledge societies and economies require the collaboration of all stakeholders. How could a nation be healthy if the knowledge of health government, health service providers, health research and education, media, industry, insurances, and citizens are not linked, views and experiences are not shared, activities and not complementing, but conflicting?
Knowledge partnerships – understood as a multistakeholder commitment to jointly advancing knowledge in a thematic field or in a city/country as a whole to achieve sustainable development – are at the heart of knowledge.city.
Knowledge partnerships can be thematic – like eg the renewable energy and energy efficiency partnership, sustainable energy for all – or regionally focused, like "Sofia Knowledge City Partnership". In any city, where knowledge.city is active, we promote, support or facilitate the knowledge partnership as an essential urban resource.
Knowledge partnerships have local grounding. They convert the global standards and goals into pragmatic actions. They embed the values of the global Agenda Knowledge for Development into the context of a local knowledge ecosystem, where nothing is exactly like anywhere else.
Knowledge.city convenes physical knowledge partnership meetings regularly, in order to create and improve relations and mutual understanding, to facilitate a dialogue beyond silos and to co-create visions and actions. Usually, but not necessarily, this is done within a knowledge week.We invite all local knowledge partnerships to connect with the global Knowledge for Development Partnership and to gain from the experiences and different views from outside.
Read more and become a member of the gobal Knowledge for Development Partnership.

KM Award
Every year since 2009, the international Knowledge Management Award is bestowed upon an international organization as well as an outstanding personality. A jury that is constituted under the auspice of the Association Knowledge Management Austria nominates the candidates. The prize is given in recognition of the winner's outstanding accomplishments in the research, implementation and innovation of successful management methods for knowledge politics and knowledge management. It is also meant to recognize the impact made on the development of a knowledge society in general and more specifically on knowledge creation, transformation, distribution and application.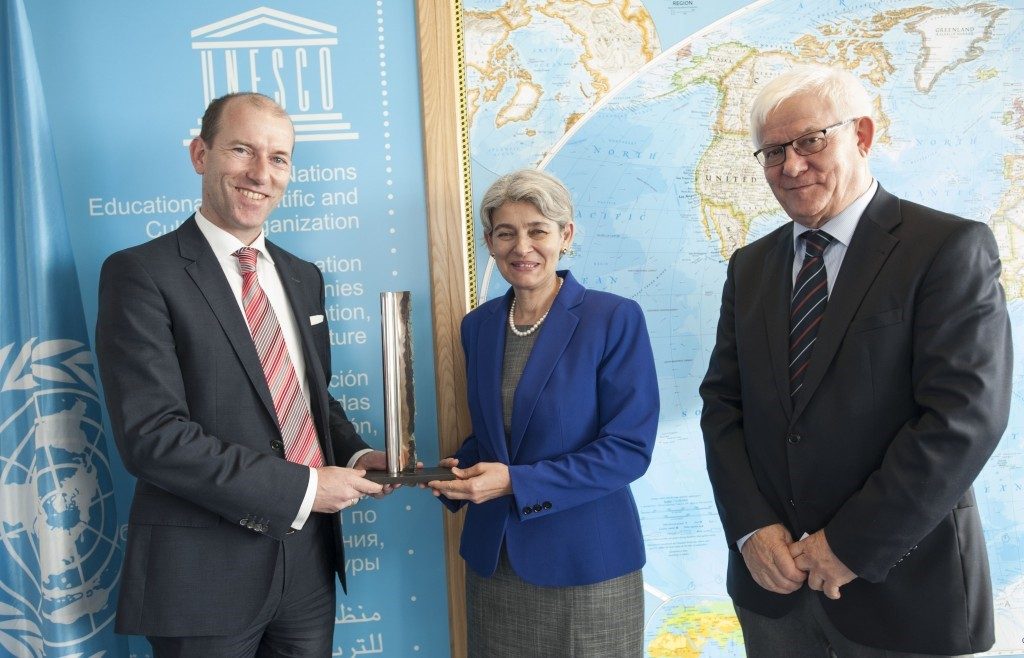 Presentation of the KM Award 2015 to the Director-General of UNESCO
From left to right: Dr. Andreas Brandner (KMA), Dr. Irina Bokova (UNESCO), Dr. Yanko Yanev (KMA)
Awardees
2009: Prof. Dr. Ursula Schneider-Hendrich
2010: Dr. Charles Savage; IAEA – International Atomic Energy Agency
2011: Prof. Dr. Stefan Güldenberg (siehe Bild oben); UNESCO – UN Education, Science and Culture Organization
2012: Prof. Dr. Nico Stehr and UNDP – United Nations Development Programme
2013: World Bank
2014: Prof. Klaus North
2015: DI Dr. Angelika Mittelmann; UNESCO – UN Education, Science and Culture Organization
2016: Dr. Ibrahim Seba Al Marri; KM4Dev Community
2017: Prof. Leif Edvinsson; Joint Inspection Unit of the United Nations System
2018: IFAD International Fund for Agricultural Development and Dr. Ali Asghar Pourmand
KM4D Award
The KM4D Award is given as a Knowledge Tree – designed by the Austrian designers "Walking Chair", 2008.
There are three levels of Awards that can be achieved:
Golden KM4D Award: Given to those who combine excellence and innovation in KM in their industry at an international level.

Silver KM4D Award: Given to those who combine excellence and innovation in KM in their industry at a national level

Bronce KM4D Award: Given to those who have achieved a high-level in KM4D and present a credible roadmap toward the state-of –the-art.
The global winners will receive the Columns of Knowledge – designed by the Austrian artist Helmut Margreiter, 2008.

Events and knowledge weeks
Knowledge Weeks provide a unique space for the convention of various stakeholders in a knowledge city. Through the diversity of the programme, different aspects of a knowledge city are addressed, and participants have the opportunity to contribute their experiences and share their views.
Incubation and market entry
Building on an international network of expert organisations knowledge.city facilitates the transfer of technology and knowledge services to address urgent knowledge needs. It acts as an incubator and business development agent for the establishment of knowledge based business and networks.
Knowledge.city follows a knowledge-based approach to business development. It concentrates expertise in the area of development and forms competence centres together with national and international partners. Together we create the knowledge ecosystem that is needed for the sustainable development of that business sector.

Knowledge societies differ significantly from industrial societies. Knowledge.city and its partners research and innovate in various topics related to knowledge-based development and knowledge management to find better solutions for our challenges and be more effective in our knowledge work.
Currently we are working towards a global, transdisciplinary research programme on national knowledge strategies and their implementation through knowledge partnerships.
All knowledge.cities have formed an advisory board which includes thought leaders in their macro-region. As an international community of such pioneers, we identify key challenges globally, nationally and locally, address these – specifically at the knowledge.weeks  – and provide recommendations and inputs for solutions.

Knowledge.city is providing services in all sectors, specifically those related the 17 Sustainable Development Goals. In a growing number of thematic areas we are specialised due to the growing network of partner organisations, experts and customers.
Among these key areas are
Agriculture

Communication and media

Climate change

Digitalization

Education

Food security

Health

Manufacturing

Renewable energy and energy efficiency

Sustainable production and consumption

Tourism

Wood processing

Waste management

Water, sanitation, hygiene
Knowledge.city is providing services to all stakeholder groups including governments and public administration, companies and NGOs, academia, art & culture. Knowledge.city aims at building partnerships in all these sectors to strengthen knowledge exchange, foster collaboration and international relations.

The Knowledge.Art.Space is art in itself. It facilitates the unique symbiosis with knowledge and art: inspiring design of Walking Chair and fascinating art work of well-known artists as e.g. Louise Deininger and Andreas Leikauf are combined with the innovative concept of knowledge space.
The Knowledge.Art.Space is presented at conferences and stimulates knowledge transfer in public space. As art collection it is based in the headquarter of knowledge.city in Vienna and reflects explicit and implicit ways of dealing with knowledge and knowledge identity. The Knowledge.Art.Space enables a new approach to comprehend knowledge.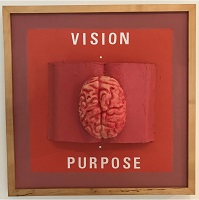 Louise Deininger, vision – purpose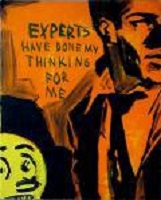 Andreas Leikauf, Experts have done my thinking for me, 2005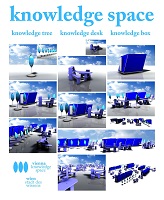 Walking Chair, Knowledge Space
The knowledge dancers in Kampala added a brand new aspect into the fields of Knowledge.Art. Watch the video on YouTube.